"Appreciation Marketing: The New Norm" - A Moxie Women's Network Event
Description
Register Here
Life is about relationships...period. The more one knows, likes and trusts you, the more they will want to be around you, buy from you and refer their friends to you. So what can YOU do to keep your relationships strong?
Meet the guest speaker:




Joy Klohonatz is an International speaker and coach who conducts workshops, seminars, one on one personal coaching, and she is an executive at SendOutCards. In her coaching it's all about showing appreciation towards others and continuing to reinforce the necessity of having a good relationship marketing program in place. She spends much of her time volunteering in her community and serving on several board of directors. She continues to be driven by her favorite quote --- "People will forget what you said, people will forget what you did, BUT people will never forget how you made them feel." – Maya Angelou


Meet the host of Moxie Women's Network: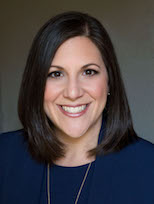 As the founder of Park Avenue Wealth Management, Lisa Krall, CERTIFIED FINANCIAL PLANNER™ has 17 years of experience guiding clients in their financial wellbeing. She assists them in financial planning based on their phase of life so they can get the most from their investments. She also helps clients select life insurance based on their needs. Her commitment to personal service leads to superior financial growth for her clients, especially in planning for retirement. 
Lisa is dedicated to giving back to her community. She is the founder of The Moxie Women's Network—an unparalleled resource and empowerment organization for women who live, work and shop in Westmoreland County—and the host of Money Moxie, an online financial education series through Elite Experts Network. In 2018, Lisa launched a live financial education series through Hempfield Township for the general community. She is also a member of the Visionaries of Westmoreland County, an organization for young professionals committed to giving back to the community by providing annual grants to nonprofits. In addition, she serves as a member on the boards for the Plum Chamber of Commerce, the Rotary E-Club of Pittsburgh, and Inspired Women.
About Moxie:
The Moxie Women's Network s a social empowerment platform that enables women to develop and add value through building relationship resources throughout Westmoreland County.
These Moxie meetings are public events aimed at business women. Each meeting will offer a different speaker that will add value and empowerment to a woman's life. 
These events will be held on a bi-monthly basis, in the evening from 6:30 pm – 8:00 pm.
Registration for Moxie Women Network events are a commitment to attend and no refunds will be offered. If you find yourself unable to attend in person, please send someone in your place. 


Date and Time
Tue, Sep 24, 2019
6:30p - 8:00p EST
Location
Christ Our Shepherd Center
Note
Formerly, Bishop Connare Center
View on Map